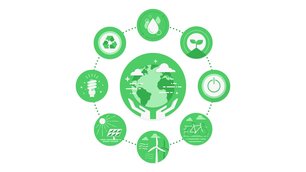 Relationships to Support the Goals
KFUPM has collaborated with several organizations including those in the Government to identify problems and find solutions for diverse SDG-related topics. For example, an agreement was made with the Ministry of Human Resources and Social Development to qualify 15,000 leaders in the next three years, and to develop twelve (12) functional standards for the main jobs in the NGO sector to contribute to the management of volunteering within schools and universities. These standards will be adopted at the 'National Center for Community Development Standards' located in the Ministry of Human Resources and Social Development - KFUPM News
Furthermore, KFUPM has participated in different events that address various topics related to the SDGs. KIKX (KFUPM Institute for Knowledge Exchange) holds regular seminars, workshops, and forums where specialties from around the world are brought together to discuss emerging topics in the field of sciences that can help humanity. For example: securing water, clean energy, and sustainability.
Some of the events that are related to SDGs can be found in the links below:
10th Non-Profit Sector Development Forum
Membranes and Water Security Workshop
---
KFUPM initiated its first research consortium (Sustainable Future) which will consist of global members from both academia and industry. The Consortium for a Sustainable Future adopts a futuristic, materials-based approach to create and scale up a wide range of innovative solutions essential to achieving a sustainable future. Motivated by the fact that the discovery and development of new materials played a significant role in much of humanity's technological advancement, next-generation materials hold significant potential for innovative solutions needed for current grand challenges facing societies in the areas of energy, environment, sustainability, and health.
To assist the country and the world in gathering and measuring SDG-related data, KFUPM faculty helped in collecting data for the National Communication (NC) in 2005, 2011, 2016, and 2022 as well as the Biennial Update Report (BUR) in 2018. These reports include a large number of studies mainly pertinent to national greenhouse gas emissions inventory, climate change mitigation initiatives, socio-economic impacts of climate change, response measures, climate change vulnerability, climate change research, education, training, capacity building, and public awareness. UNFCC Saudi Arabia NC4
One of our main tasks as a university is to educate students about the importance of volunteer work and how to be an active member of the society. For this reason, KFUPM runs an annual volunteer day where students participate in different themes. The 13th Volunteer Day
Education for the SDGs
KFUPM has introduced an Undergraduate Concentration (CX) program. These programs align with Saudi Arabia's Vision 2030 which highly correlates to the SDGs. For example, one of the main objectives of the vision is "A Thriving Economy" which is in line with SDG 8. Most of the students in final year enroll in these programs as part of their BSc. degree. There are different concentration areas to choose from. Among them are climate change adaptation, energy efficiency, smart and sustainable buildings, renewable energy and energy storage or waste management.
In addition, below are some of the Master Programs which highly correlates to the SDGs.
Master of Engineering on sustainable and renewable energy
Master of Smart and Sustainable cities
The university is planning to introduce more courses and programs to align with different SDGs in order to equip the new generation with the knowledge needed to achieve and maintain these goals.