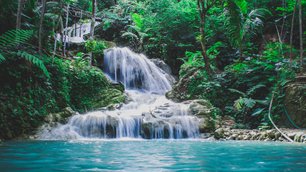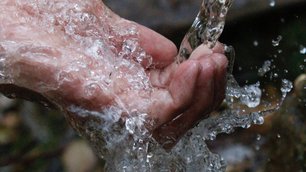 Ensure availability and sustainable management of water and sanitation for all
At KFUPM, we highly regard water as a vital resource. In this sense, the institution has developed an Environmental Sustainability Strategy which comprehends research, actions, processes and policies to address consumption, usage, care and community engagement to mitigate environmental risk in the framework of environmental compliance and due diligence. It is KFUPM's commitment to actively preserve this precious resource and to make it available for the benefit of future generations.
---
Water Consumption per Person
KFUPM provides inhabitants on campus with clean, safe water for drinking and household use. The water supply system provides service to four residential zones on campus, including faculty housing, student dorms, and academic buildings. The university's water supply system also services the central kitchen, storehouse, workshops, and student mall. Most KFUPM buildings provide free drinking water. Drinking fountains can be found in all buildings (except in labs and workshops). (ESSW, page15)
There are mainly two water sources that supply KFUPM's campus: KFUPM's brackish deep groundwater aquifers and Al Aziziah / Al Khobar desalinated water. The water supplied from the Al Aziziah Desalination Plant is directly connected to the KFUPM's water distribution network, whereas raw water supplied from KFUPM's deep wells needs to be treated before being distributed to the pipe network.
The Projects and Maintenance department observes and measures the annual volume of water used for the four residential zones and the Water Consumption Report 2022 states that the annual water use per capita at KFUPM was 109 cubic meter, considering a total campus population of 18,412 and a total volume of water used of 2,007,500 m3. (ESSW, page4)
Water Usage and Care
Water management is essential to preserve and protect the lives of people and ecosystems inside the campus. Most of the wastewater in Saudi Arabia gets treated in water treatment plants before reusing it for agriculture or disposing it again to the environment.
At KFUPM, the sewage system is connected to the public sewage system of Dharan city, which eventually reaches a wastewater treatment plant to be safely reused or disposed of. The process for the purification of water on campus is therefore regulated by this ongoing subscription with the company. (ESSW, page16)
Additionally, KFUPM has devised a process that aims to prevent polluted water from entering the entire water system. Action steps put into place include, for example, specific constructions of pipes, wells and pumps or provision of guidelines and awareness documents. (ESSW, page17)
Furthermore, KFUPM applies the Saudi Building Code (SBC) on all works of buildings and construction including the design, operation, maintenance, demolition, modification, and rehabilitation for existing buildings and facilities. In particular, the institution is committed to applying the Saudi Green Building Code, which emphasizes in section 7 applying water-conscious equipment. Also, KFUPM makes sure that all water equipment installed is the most efficient according to SASO (Saudi Standards, Metrology and Quality Organization).
Moreover, KFUPM applies the regulations of the Ministry of Environment, Water, and Agriculture (MEWA) which say: "Governmental and private entities, licensees and water users must abide by the rational use of water, and the use of tools, water conservation equipment, and supplies that conform to the standard specifications and technical regulations approved in the Kingdom, including the Technical Regulation for rationalizing water consumption issued by the Saudi Standards, Metrology and Quality Organization, and standard specifications. And other technical regulations related to sanitary ware or related to rationalizing the use of water or materials for its use."

Water reuse policy and Water-conscious planting
The university is dedicated to efficiently managing water resources and maximizing water reuse within the campus. One of KFUPM's main goals is to reshape and enhance the water recycling program.
KFUPM is taking various actions to increase water reuse throughout the university. These include, for example, utilization of Reverse Osmosis (RO) technology, collecting greywater on campus for potential recycling and reusing rejected water for irrigation or sustainable landscaping. (ESSW, page 21)
With reference to the latter, water-conscious planting actions are directed towards minimizing grass cultivation, reducing water usage, and enhancing greenery around student housing.
Examples are:
Atriplex halimus: a short-stemmed shrub that is highly drought resistant.
Ficus plants: known to be drought tolerant.
Azadirachta: tolerates poor soils and is drought tolerant once established.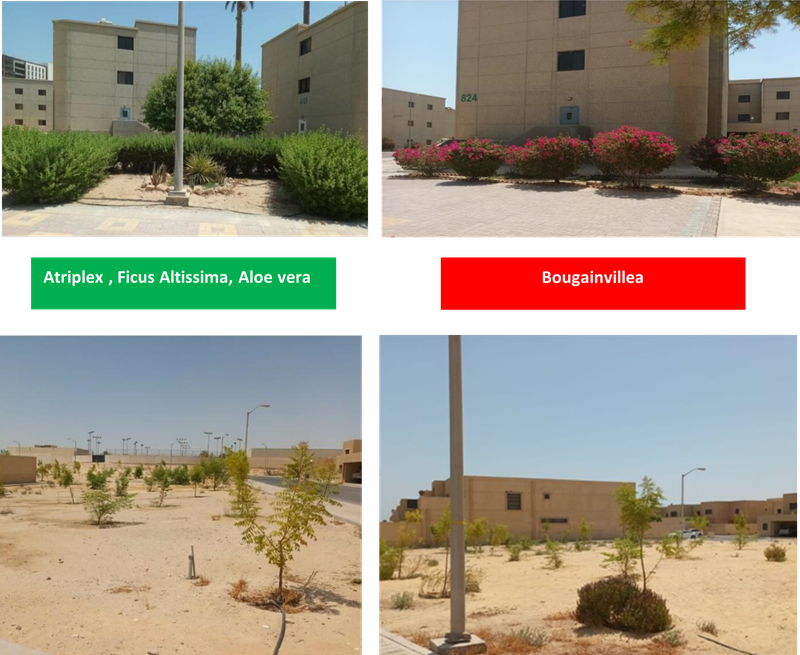 Neem Tree, Azadirachta
Water in the Community
In 2024, KFUPM's primary objectives include engaging with schools and MOOCs organizations. The institution employs emails, posters, and social media channels to raise community awareness about water conservation.
In addition, KFUPM's Institute for Knowledge Exchange (KIKX) periodically organizes workshops and seminars related to Water Security. All workshops are accessible by the public and recordings can be found on KIKX website. KIKX website.
To conserve water on campus, KFUPM has implemented various initiatives (ESSW, page24), such as Water-Saving Equipment, Automatic Irrigation or Awareness Campaigns. As part of KFUPM's water awareness initiative, the institution has placed reminders in most campus washrooms, encouraging simple acts like turning off taps when not in use. Making informed choices as individual water consumers is vital, but as a society, making wise water decisions is equally crucial.
Students and faculty are then encouraged to spread the word and raise awareness among family members as well as friends to reach out to a wider community, beyond the KFUPM campus.
KFUPM is also involved in various water optimization projects with industry. These projects are part of the Environmental Impact Assessment (EIA) study. EIA means studying and analyzing the environmental feasibility of any proposed project because the implementation or operation of the project may affect the environment, and natural resources such as water and/or human health.
KFUPM also collaborates continuously and emphatically with various agencies to address water security, fostering partnerships with government water utilities in Saudi Arabia and international institutes like the Saudi Irrigation Organization, the Ministry of Interior, the Ministry of Environment Water and Agriculture, and with the Massachusetts Institute of Technology (MIT). (ESSW, page26)